Take action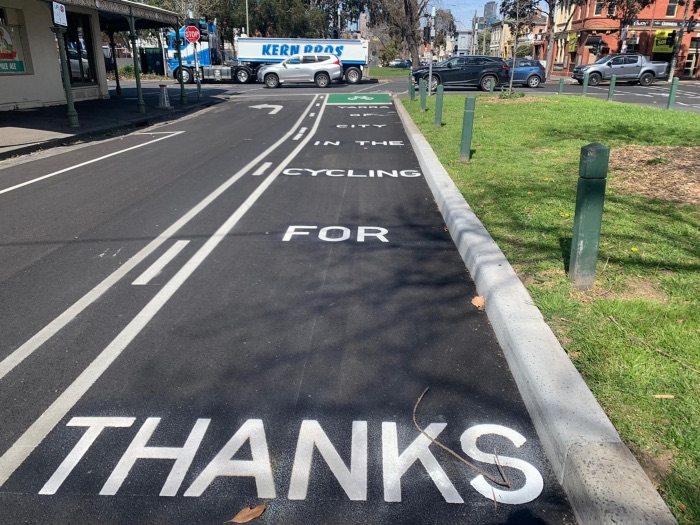 Yarra prioritises sustainable and active transport, to help people move safely and sustainably through and within our municipality.
Council is committed to creating a city that is accessible to all, irrespective of levels of personal mobility, to support a fulfilling life without the need for a car.
It is an integral part of our climate emergency response to reduce transport emissions towards net-zero emissions by 2030.
Yarra City Council Plan 2021-2025, Strategic Objective five: Transport and movement
---
Maintaining the cycling network
Creating and maintaining safe conditions for active transport is important for everyone as is campaigning for better infrastructure. We share Streets Alive Yarra vision for a beautiful, liveable and accessible city. On this page is information on how you can contribute to improving cycling in Yarra and nearby council areas.
Streets Alive Yarra: Yarra has supported walking and biking for over 25 years – City of Yarra has a long history of supporting walking, biking, public transport, trees, and place making, dating back to when Yarra was created in 1994, demonstrating that council is responding to broad, long-term community support for such initiatives.
You can help by contacting agencies when you see a road hazard:
Provide feedback
Live, work or travel through Yarra and want to improve active transport? This can include daily things replacing car trips for a bike, cargo bike or ebike for shopping or on the school run and specific things, like road and path design, accessible, secure bicycle parking, road crossings, kerb transitions, road markings, path signage, dealing with bike lane obstructions, intersections and more. You can read about examples below. Remember, good things are possible
---
Next Steps
Local councils and state government provide the ability for you to register to receive updates about council decisions, public consultation and upcoming projects.
Stay up to date
You can find out about campaigns, news, events, consultation and bicycle-themed information
YarraBUG Advocacy Archive
At some point almost twenty years of submissions, council questionnaires and feedback will be collated here, most likely this information will published on a separate page in the near future.