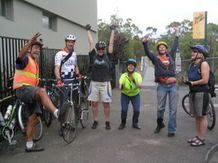 Do you want to go for a ride? Yes! Right now!
Before we start – the December Wednesday night wind down ride & Ha Long Bay dinner was fantastic – and since we had "two" rides, who wants to post a Ride Report? There was discussion about having a YarraBUG 'progressive' dinner in January. Or even a 'retrogressive' dinner where we commence with dessert & finish with a entrée….?!? So look forward to that event in the New Year!
YarraBUG folk enjoying dinner later at Ha Long Bay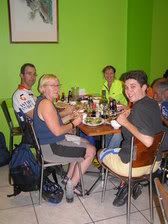 Who's up for helping to organising a Combined BUG / Wheels of Justice team, or volunteering to help with Amys Ride in Geelong, 7th January 2006? Refer to further details at Amys Ride. A quick reminder, Wheels of Justice is a cyclist advocacy group that formed earlier this year in response to the Eugene McGee case in South Australia.

Details from Amys Ride website
Start 9:30 am to 11:00 am – Geelong Botanic Gardens
* 120 km around the Bellarine Peninsula (for adventurous riders)
* 45 km from Geelong – Drysdale and return (get the blood flowing and the heart pumping)
* 5 km ( loops of the Geelong Botanic Gardens) for mum, dad and the kids on closed roads.
* 70 km along the Bellarine Peninsula Rail Trail to Queenscliff and return (for MTB and Hybrid riders)
* 40 km along the Bellarine Peninsula Rail Trail to Drysdale and return (for MTB and Hybrid riders)
We can explore further options for cheaper accommodation if required – and we are approaching potential sponsors. *Time is short*, so please let us know what you can organise in the next few weeks.