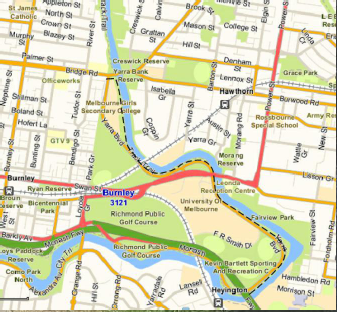 Information from Yarra Council regarding the upcoming shared path reconstruction.
Refer to the map on the right – the area is marked by the black dotted line on the shared path along the Yarra River between Bridge Road and Monash Freeway
As this is a highly used part of the Main Yarra Trail can you please pass on this information to everyone you know who uses the area,
i.e.: anyone who lives nearby, uses it for exercising, recreation, walking & of course, commuter cycling.
From Yarra Council – The reconstruction will improve path conditions for pedestrians and cyclists and aims to maximise enjoyment and safety for all users. The works will also involve the protection of significant environmental and horticulture assets.

Works will commence in early February 2010 and will take approximately three months to complete. During the works, parts of the trail will be closed to public access. Signage will direct pedestrians and cyclists to alternate routes.

The project is jointly funded by Yarra City Council and the Federal Government, as part of the Jobs Fund – National Bike Paths Program.
For further information, please phone Mark Donnellan at Yarra City Council on 9205 5724, or email mark.donnellan[AT]yarracity.vic.gov.au