The Crossing – a fabulous representation of the Canning / Princes St intersection in Carlton North. Massive kudos to The Bicycle Channel for making this video.
Yarra Bicycle Users Group is a community voluntary organisation located in the inner suburbs of Abbotsford, Alphington, Burnley, Carlton North, Clifton Hill, Cremorne, Collingwood, Fairfield, Fitzroy, Fitzroy North, Princes Hill and Richmond. YarraBUG is particularly interested in hearing from cyclists who may not be residents of Yarra but who commute daily through the area. Both cyclists and residents local knowledge, resources and skills are important in creating awareness and a safe cycling environment in Yarra.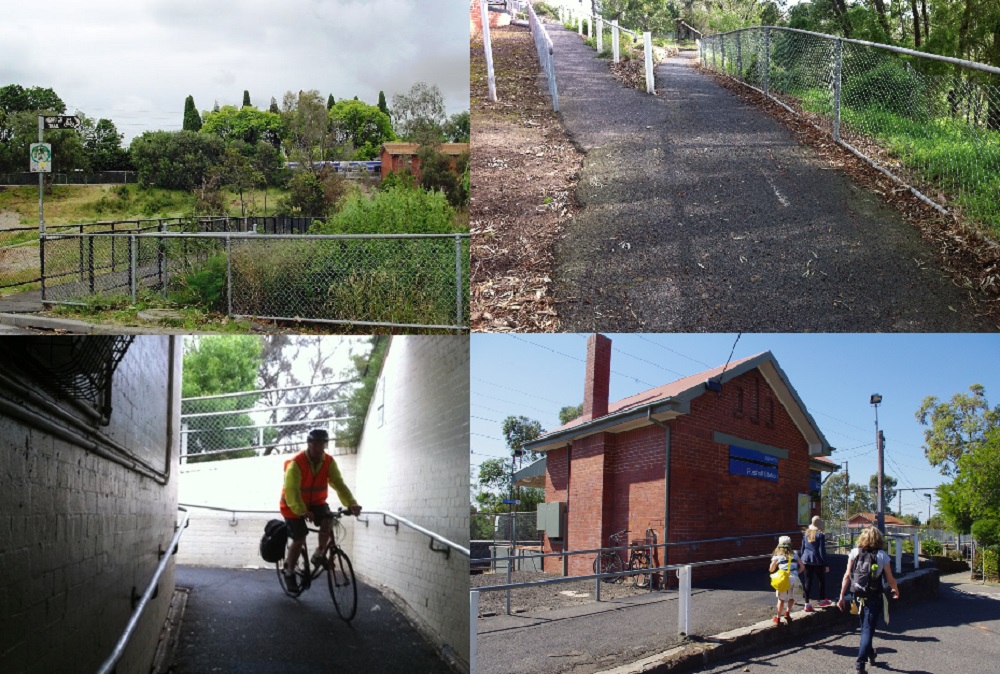 Yarra City Council has proposed to extend the Merri Creek shared path through Rushall Reserve from Rushall Railway Station to the existing path at the end of Holden Street, North Fitzroy.
This will complete a missing link of the path, as mentioned in the councils own Yarra Bicycle Strategy 2010-15 (refer to Merri Creek Trail at Rushall Station, page 44, item 3.2) Some local residents see this as intrusive on their enjoyment of the reserve and are waging a campaign to stop this important and overdue path extension.
Council recently consulted the community on design options for the path through the park, but there has been mainly a local response rejecting the proposal altogether; mainly based on their exclusive use of this public park and dubious and inflammatory arguments against bicycle riders. The shared path extension is too important for all users of Merri Creek to be derailed after waiting decades for VicTrack approval to build close to rail infrastructure.
1. Enjoyment of the Merri Creek for all
Creating the shared path has resulted in enrichment of the creek environment and this has been enjoyed by thousands of people walking and riding along the creek each week
The shared path and the creek environment is public land and everyone should have practical access to it – its not fair to perpetuate missing trail links that create barriers to all people's enjoyment of the creek.
2. Connecting the shared path is important for all users
Public Transport: quicker access to Rushall Station for residents in North Fitzroy, Northcote and Westgarth. Walkers, people with accessibility issues and bike riders won't have to leave the shared path and attempt to reconnect by traveling around suburban streets.
3. Shared path connection will result in good design options for the Rushall Reserve
Good design of the trail will protect the bush setting of Rushall Reserve as it has along many parts of the Merri Creek. Depending on consultation outcomes, a well designed fence or barrier between path users and dogs will prevent conflict and stop dogs going onto the railway line.
4. Yarra Council's responsibility for the reconnection
Yarra Council has made commitments to other local governments adjoining the creek to fill in missing links. The proposal to extend the trail through Rushall Reserve is worth the cost, which comes from developers contributions set up to improve open space and not from Council rates.
Additional background going way back to June 2006: Merri Creek Review: Combined Submission from DarebinBUG, BrunswickBUG (now MorelandBUG) and YarraBUG.
East West Link – cutting Yarra cycling routes in half?
Not anymore! The East West Link project reference design is between the Eastern Freeway to Smith Street – or is it? After reading through the voluminous CIS documents we found no reference to the current Yarra bike strategy and nebulous references to what will occur to cycling routes during the projected construction period of up to 4-6 years.  Read our CIS submission to the Planning Panel made on Monday 7 April 2014
November – December 2013 – Wellington Street 'Copenhagen Lanes' – Thanks to all who helped, by signing the petition! Big thanks to all who helped by emailing councillors. Massive thanks to all who helped by taking action and getting others involved, we achieved over 700+ signatures via online & hardcopy in under two weeks! Special thank you to wellingtonstbikelane.info and Yarra Climate Action Now. Current situation is that Wellington St separated bike lane project will move forward to detailed design for costing.