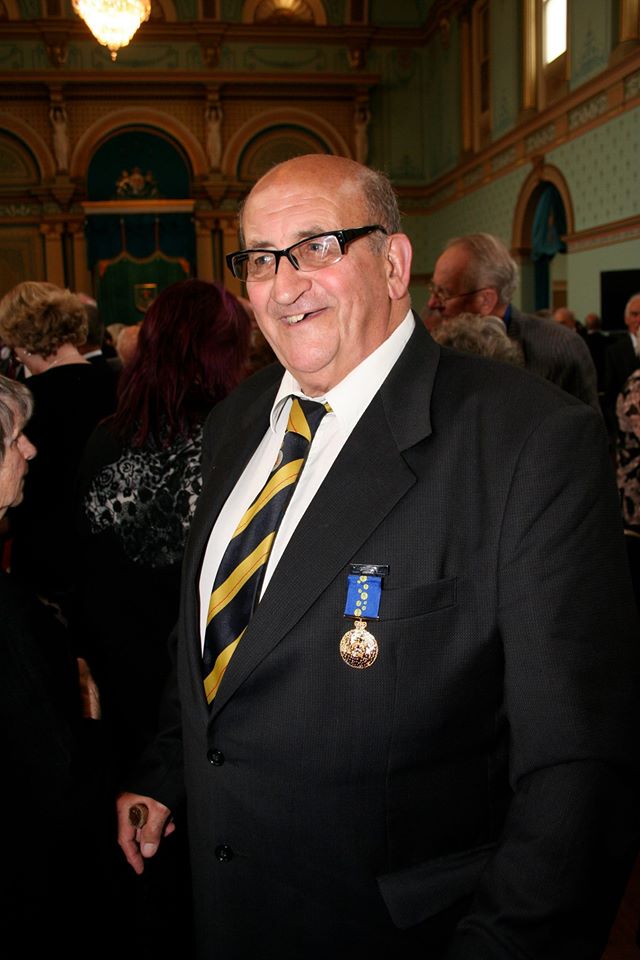 From Bruce Robinson: I am sorry to report that Alan Parker died on Easter Monday. He left a momentous legacy of work in bicycle planning and advocacy. He was an important mentor and advisor to me. Bruce Robinson, Cyclists' Action Group, Perth.
From Doreen Parker: Thank your kind thoughts. The funeral will be held at Cirrus Reflections Space, Bunurong Memorial Park, 790 Frankston Dandenong Road, Dandenong South on Monday April 4th at 2pm. No flowers please but donations can be made to Medicins Sans Frontiers. Envelopes will be available at the Chapel. Further information: Tobin Bros 034 5975 2233.
Doreen Parker
Make a donation to Médecins Sans Frontières: Bicycle and sustainable transport activist Alan Arthur Parker passed away on 28th March 2016. His funeral will be held on 4th April. In lieu of flowers, donations to MSF are invited
The Age: Online tributes for Alan Arthur Parker
Melbourne #Cycling & #climate advocate Alan Parker sadly has died https://t.co/bg7QxPuIiA https://t.co/1F8Jcgdj5L pic.twitter.com/Q4a1UZL3hD

— John Englart EAM (@takvera) March 30, 2016
A brief overview of Alans contribution to cycling and sustainable transport
Alan Parker obituary: Sprocket Man fought for cyclists' rights on the road. Dorren Parker, 12 May 2016
ALAN PARKER | Activist | 30-3-1936 – 28-3-2016
Much of Alan Parker's childhood was spent during World War II in Coventry, England, (where the family home was bombed) and in Birmingham, where street games included collecting shrapnel, and where he learned the art of frugality – how to feed a family by growing fruit and vegetables in the back garden. He retained a strong interest in Churchill and the war throughout his life.
The Urbanist: Why was cycling for transport slow to get moving? Alan Davies, 17 May 2016
One of the legends of utility and recreational cycling in Australia, Alan Parker OAM, died on Easter Monday. Alan was a co-founder of the Bicycle Institute of Victoria (now Bicycle Network) in 1974 and more recently a regular commenter on these pages on cycling and other topics.
Alan was way ahead of the times in his vision for cycling in the 1970s and 1980s. Although it was a key mode in the pre-war years, by the 1980s its share of adult travel in the inner and middle suburbs of Australia's capitals was close to non-existent (see How big was cycling in Australia in the past?).
YarraBUG Radio Show #387 Monday 25th April 2016 – Tribute to Alan Parker OAM: Chris replays a two-part interview from 2013 with Alan Parker OAM.
Bicycle Network: Alan Parker 1936 – 2016
Alan Arthur Parker OAM was a giant of cycling advocacy in Victoria and Australia. He was a key founding member of the Bicycle Institute of Victoria (now Bicycle Network), president and Board member for many years. Alan was Vice President of the Bicycle Federation of Australia, a member of the State Government's State Bicycle Committee, founder of PEST (People for Economically Sustainable Transport) and author of an almost endless list of papers of cycling.
Alan Parker PEST (People for Ecologically Sustainable Transport) was created by a small group of transport activists in 1996 to promote the need for an ecologically sustainable transport system. A transport system that greatly reduces road congestion, oil consumption and greenhouse gas emissions and increases the level of incidental exercise in travelling from A to B.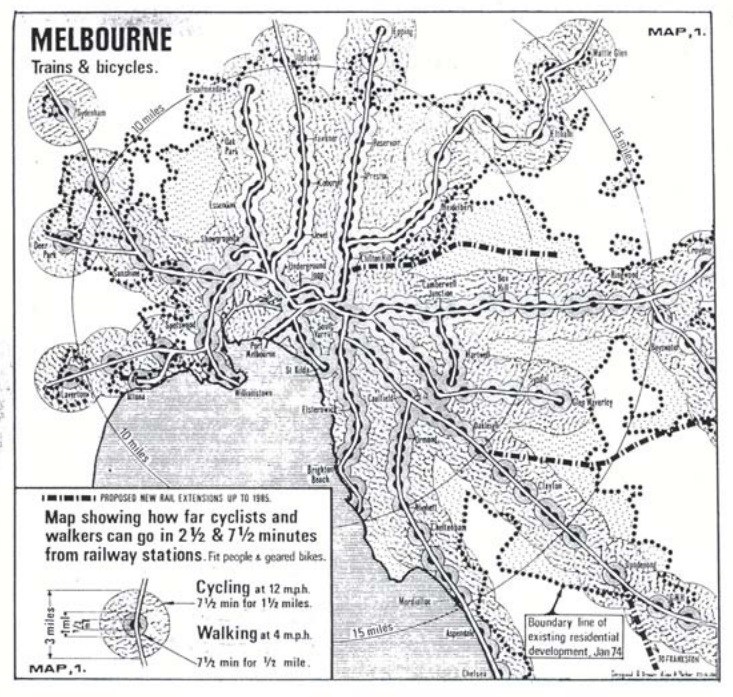 Illustration from "Bicyclization" by Alan Parker, published in Chain Reaction, September 1975
Bicyclization by Alan Parker, published in Chain Reaction, (Friends of the Earth) September 1975
Online Opinion: Bicycles: sustainable transport needs city infrastructure 30 May 2012
For 30 years I was an advocate for bicycle Infrastructure. For 10 years I was an advocate for electric bicycles. I did this for aged people like me, who are falling to bits, have dodgy hearts and hips and find it painful to walk. I got my OAM 'gong' due to referees who knew what I had achieved. As two of them told me, I was 'gong worthy' because I was a rat bag who made things happen. Now, with an OAM after my name, it makes advocacy easier.
My bicycle advocacy started in the1970's in the era of the Board of Works, and the Country Roads Board. These predecessors of VicRoads wanted to bury the Melbourne Bikeplan, after its approval by the Hamer government, as did VicRoads in the 1980s and 1990s. In 2012 the Premier wants to bury Hamer's initiative by dumping the generous bikeway funding promised in 2011 by Transport Minister Mulder. Read more
It's an honour: Alan Arthur Parker OAM
For service to the community, particularly through Bicycle Victoria.
Founding Member, Bicycle Institute of Victoria, 1975; President, for 2 years; Research
Officer, for 12 years.
Vice-President, Bicycle Federation of Australia.
Member, State Government Bicycle Planning Committee, for many years.
Planning work, the Geelong Bike Plan and other bike paths in Melbourne.
Acting President, Town and Country Planning Association, for 2 years; Vice-President;
Committee Member; Member, for many years.
Member, Public Transport Users Association, for many years